1 Port RS232 and 1 Printer Port LPT PCIe ExpressCard Serial Adapter absolute compatibility, guaranteed low latency, memory mapped -

N'est plus produit
XC-475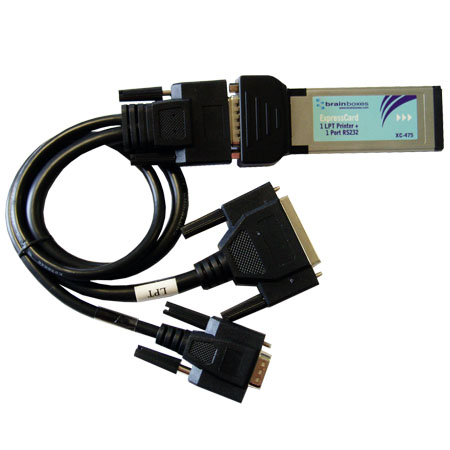 1 Port RS-232 and 1 LPT Printer Port
ExpressCard (PCIe) Technology: Absolute compatibility with classic desktop serial COM ports
Guaranteed low latency, memory mapped, no compromise high performance interface
Data rate from 110 to 921,600 baud
Fits in any 34mm or 54mm ExpressCard slot
Lifetime Warranty and Support
N'est plus produit- Recommended Alternative Products
XC-475
XC-235
VX-012
PM-132
PX-246
1 Port RS232 and 1 Printer Port LPT PCIe ExpressCard Serial Adapter absolute compatibility, guaranteed low latency, memory mapped
1 Port RS232 Native ExpressCard Serial Adapter, low latency, memory mapped
Adaptateur Série ExpressCard à 2 Port RS232 avec câble détachable et débit de données de 1 Megabaud
PCMCIA RS232 à 2 Ports avec câbles intégrés renforcés et un débit de données de 1 Méga-baud
Carte Série PCI Express à 1 Port RS232

Protocol

RS232 + LPT Printer

UART

Brainboxes 16PCI950+

Form Factor

Standard Height

£ 118.00 (gbp)
£ 99.00 (gbp)
£ 86.25 (gbp)
£ 195.00 (gbp)
£ 110.00 (gbp)
Détails
Détails
Détails
Détails
Description
ExpressCard providing one RS232 serial port and one Printer port. Where absolute compatibility with classic desktop serial COM ports and parallel LPT printer ports is a necessity. Guaranteed low latency, memory mapped, no compromise high performance interface. Up to 921,600 data transfer rates and the 256 byte deep transmit and 256 byte receive FIFOS, coupled with 1Mbit/s line drivers deliver uncompromising performance on your laptop. Drivers for Windows 32 bit and 64 bit Operating Systems including Windows XP, Server 2003, Vista, Server 2008 and Windows 7.
Customer Feedback
Great products. Excellent quality.

ENZ Engineering, Berlin
Great products and brilliant to see still manufactured in UK

AI Automation
Fantastic job keep up the good work!

Vibra-Technics
I've purchased a number of these now and haven't had a problem with any of them.

Somfy Projects
Brainboxes are great products. Very stable & reliable.

Winner Hotel Software
Efficient and fast

Grid Edge Ltd
Like the products. easy to use.

Gauss Instruments International GmbH
‹
›
Spec Tech
Serial Port
Ports
2
Protocol
RS232 + LPT Printer
Connector
DB9 Connector (9 Pin Male) & DB25 Connector (25 Pin Male)
Tx FIFO Size
128
Rx FIFO Size
128
Operating Distance
EIA - RS232 Standard
Cable
1xDB9 & 1xDB25
Serial Port Settings
Max Baud Rate
921,600
Data Bits
5,6,7 or 8
Parity
Odd, Even, None, Mark or Space
Stop Bits
1 or 2
Flow Control
RTS/CTS, DSR/DTR, XON/XOFF
Tx/Rx Modes
Point to Point
General
Ruggedised
No
PCB Layers
4
ExpressCard Width
34mm (fits both 34mm and 54mm ExpressCard slots)
Power Consumption
380mA @ 3.3V
Product Weight
0.044 kg, 1.55 ounces
Product Dimensions
110x46x20 mm, 4.3x1.8x0.8 inches
Packaged Weight
0.356 kg, 12.56 ounces
Packaged Dimensions
160x135x49 mm, 6.3x5.3x1.9 inches
GTIN (barcode)
837324002324
Operating System Compatibility
Operating Systems

Microsoft Windows 10
Microsoft Windows 8 32 bit & 64 bit Editions
Microsoft Windows 7 32 bit & 64 bit Editions
Windows Vista 32 bit & 64 bit Editions
Windows XP 32 bit & 64 bit Editions

Interface
ExpressCard PCIe Implementation
ExpressCard PCIe Implementation. Unlike the VX range which uses USB technology over ExpressCard, this uses PCI Express technology over ExpressCard. All Brainboxes XC cards are PCI Express Base Specification 1.1 Compliant.
Modal header