Adaptateur série ExpressCard à 1 Port RS422/485 avec connecteur intégré et débit de données de 1 Megabaud -

N'est plus produit
VX-023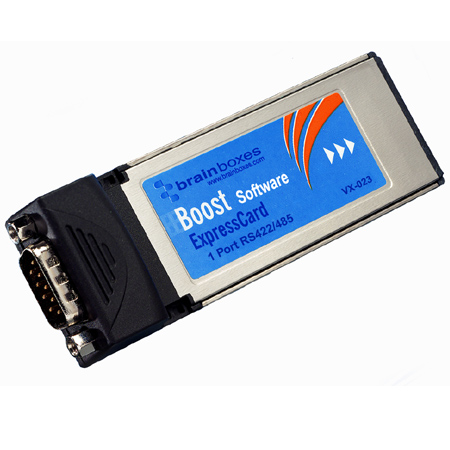 1 Port RS422/485
ExpressCard Technology
Data rate from 110 to 921,600 baud
Fits in any 34mm or 54mm ExpressCard slot
Drivers for all popular operating systems
Lifetime Warranty and Support
N'est plus produit- Recommended Alternative Products
VX-023
VX-034
VX-001
US-324
PX-324
Adaptateur série ExpressCard à 1 Port RS422/485 avec connecteur intégré et débit de données de 1 Megabaud
Adaptateur Série ExpressCard à 2 Port RS422/485 avec câble détachable et débit de données de 1 Megabaud
Adaptateur série ExpressCard à 1 Port RS232 avec connecteur intégré et débit de données de 1 Megabaud
Adaptateur USB vers Série 1 Port RS422/485
Carte Série PCI Express RS422/485 1 Port

Form Factor

Standard Height

£ 78.75 (gbp)
£ 93.75 (gbp)
£ 71.25 (gbp)
£ 49.00 (gbp)
£ 120.00 (gbp)
Détails
Détails
Détails
Détails
Description
Carte ExpressCard offrant un port série RS422/485. Débit de transfert de données jusqu'à 921.600 bauds, modules FIFO de 128 octets pour la transmission et 256 octets pour la réception, couplés avec des pilotes en ligne de 1 Mbit/s offrant des performances exceptionnelles sur votre ordinateur portable ou votre PC. Les pilotes pour les systèmes d'exploitation Windows 32 bit et 64 bit inclus Windows XP, Server 2003, Vista, Server 2008 et Windows 7.
Customer Feedback
…I would recommend a BrainBoxes PCI Express card or PCMCIA card. Brainboxes seems to be a forward-thinking company that has very strong driver support across its entire range, including some products more than 10 years old.

Tim Long
We have been massively impressed by the Brainboxes USB to RS232 converter. It is the best adapter we have found as it fully supports all 9 pins and has compatible drivers for windows 2000 through to Windows 7 64 bit meaning one solution can be used with all of our machines. We have been able to communicate with legacy PLCs such as the Honeywell IPC range through to modern PLCs such as the Allen Bradley Control Logix range. Unlike many other converters that can be hit-and-miss we are yet to find a device your converter will not work with. We have recommended your product to all of the automa

Coca Cola Enterprises
... I use BrainBoxes for critical serial to ethernet application and have not had a single hiccup ...

Christopher Luce, RocketTech
Great products. Excellent quality.

ENZ Engineering, Berlin
Powerful and easy to use .COM Interface

MiE (Medical Imaging Electronics)
Have used the product previously and has been reliable.

Raptor Rig
This is the only device of this type we have found that works with this system and makes the COM ports available in Windows

Oncology Systems Ltd
‹
›
Spec Tech
Serial Port
Ports
1
Protocol
RS422/485
Connector
DB9 Connector - 9 Pin Male
Tx FIFO Size
128
Rx FIFO Size
256
Operating Distance
RS422/485 Standard (4000 ft : 1200 metres)
Cable
No Cable; Integrated Connector
Serial Port Settings
Max Baud Rate
921,600
Data Bits
7 or 8
Parity
Odd, Even, None, Mark or Space
Stop Bits
1 or 2
Flow Control
RTS/CTS, XON/XOFF
Tx/Rx Modes
Full Duplex, Half Duplex Autogating
General
Ruggedised
Yes
PCB Layers
4
ExpressCard Width
34mm (fits both 34mm and 54mm ExpressCard slots)
Power Consumption
80mA @ 3.3V
Product Weight
0.030 kg, 1.06 ounces
Product Dimensions
101x38x20 mm, 4.0x1.5x0.8 inches
Packaged Weight
0.120 kg, 4.23 ounces
Packaged Dimensions
160x135x49 mm, 6.3x5.3x1.9 inches
GTIN (barcode)
837324001471
Operating System Compatibility
Operating Systems

Microsoft Windows 10
Microsoft Windows 8 32 bit & 64 bit Editions
Microsoft Windows 7 32 bit & 64 bit Editions
Windows Vista 32 bit & 64 bit Editions
Mac OS X
Windows XP 32 bit & 64 bit Editions
Linux

Interface
USB 2.0
480 Mb/s USB 2.0 data rates.
Agréments
Microsoft Signed Drivers
---
Microsoft Hardware
---
Other
---
---
Modal header