Ultra 1 Port RS422/485 USB to Serial Adapter
US-320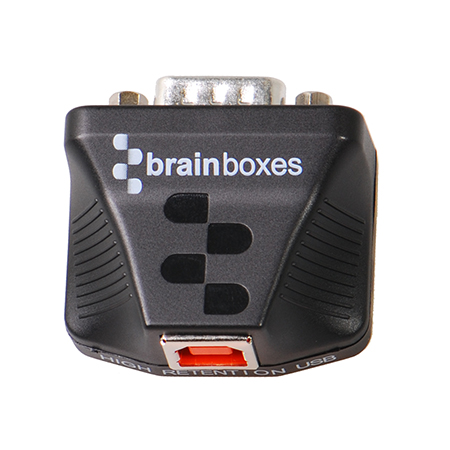 1 Port RS-422/485 USB to Serial Adapter
High Retention USB connector with 50cm USB cable
Our smallest form factor USB to Serial
Works where many other USB to Serial devices do not. Drivers for Windows 10, 8, 7, XP, Mac and Linux
Industrial Specification -40 °C to +80 °C / -40 °F to +176 °F
Lifetime Warranty and Support
Description
Tough ultra small USB to serial adapter suitable for any environment. The closest you can get to an integrated RS422/485 serial COM port. High retention USB connector for an unbreakable connection.
Have confidence, this product will match whatever baud rate your equipment needs without data loss. Includes large 512 byte Tx and Rx and high data throughput. Works across the full spectrum of baud rates up to 921,600 including standard and arbitrary values.
We provide our own software drivers - eliminating many common problems with USB to Serial - giving you have a reliable, stable, native com port solution.
Drivers for Windows 32 bit and 64 bit Operating Systems including Windows 10, Windows 8, Windows 7, Server 2008, Vista, Server 2003 and Windows XP with additional drivers for Raspberry Pi, Mac OS X and Linux.
Customer Feedback
I would like to thank you for sending out the windows 7 RS232 USB driver.
I have had a lot of problems trying to get my EXFO fiber optic test equipment to communicate with my windows 7 laptop.
I loaded on your software for the driver and within 10 mins I could communicate with the EXFO.
Exfo's technical guys have struggled to find a soloution. Thanks to Brainbox the problem is solved
Many thanks

ABM Electrical Contracting Ltd
For some time I have been searching for a USB to Serial adaptor that works correctly with the Fanuc CNC controls fitted on the 600 UK products that I support.
I now use and recommend a USB to Serial adaptor supplied by Brainboxes Limited
They can look after all your RS232 hardware needs, be it getting your Netbook to talk to your CNC or your Desktop serving your CNC machines via RS232 multi port cards.
I find their products very reliable and their support team are very helpful.

Les Robbins
We have been massively impressed by the Brainboxes USB to RS232 converter. It is the best adapter we have found as it fully supports all 9 pins and has compatible drivers for windows 2000 through to Windows 7 64 bit meaning one solution can be used with all of our machines. We have been able to communicate with legacy PLCs such as the Honeywell IPC range through to modern PLCs such as the Allen Bradley Control Logix range. Unlike many other converters that can be hit-and-miss we are yet to find a device your converter will not work with. We have recommended your product to all of the automa

Coca Cola Enterprises
Great products. Excellent quality.

ENZ Engineering, Berlin
This is the only device of this type we have found that works with this system and makes the COM ports available in Windows

Oncology Systems Ltd
Great products and brilliant to see still manufactured in UK

AI Automation
I like the small form factor of the USB RS-485 products.

Cape Software, Inc.
‹
›
Product Videos
Product 3D Models
Spec Tech
Serial Port
Ports
1
Protocol
RS422/485
Connector
DB9 Connector - 9 Pin Male
Tx FIFO Size
512
Rx FIFO Size
512
Operating Distance
RS422/485 Standard (4000 ft : 1200 metres)
Cable
USB cable Type A to B (0.5 metre ~ 1.5ft)
Serial Port Settings
Max Baud Rate
921,600
Data Bits
7 or 8
Parity
Odd, Even, None, Mark or Space
Stop Bits
1 or 2
Tx/Rx Modes
Full Duplex, Half Duplex Autogating, Hardware Autogating, TxD always/ RTS true enabled, RxD always enabled, RxD RTStrue disabled, CTS forced true
General
PCB Layers
4
Operating Temperature Range
0 °C to +60 °C / 32 °F to +140 °F
Industrial Standard
Yes
Power Consumption
80mA @ 5V
Product Weight
0.024 kg, 0.85 ounces
Product Dimensions
41x38x22 mm, 1.6x1.5x0.9 inches
Packaged Weight
0.156 kg, 5.50 ounces
Packaged Dimensions
160x135x49 mm, 6.3x5.3x1.9 inches
GTIN (barcode)
837324003666
Operating System Compatibility
Operating Systems

Microsoft Windows 10
Microsoft Windows 8 32 bit & 64 bit Editions
Raspberry Pi
Microsoft Windows 7 32 bit & 64 bit Editions
Windows Server 2008 32 bit & 64 bit Editions
Windows Vista 32 bit & 64 bit Editions
Mac OS X
Windows XP 32 bit & 64 bit Editions
Linux

Interface
USB 2.0
480 Mb/s USB 2.0 data rates.
Modal header