Carte PCI Express 1 Port RS232 Autoalimenté (par un connecteur d'alimentation IDE) 1 Amp POS
PX-823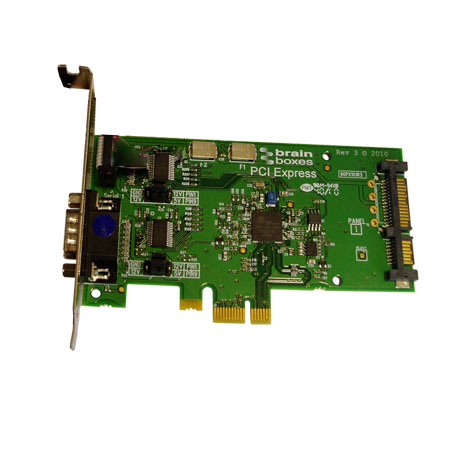 1 Port RS232 Powered, up to 1 Amp selectable power through pins 1 or 9
Data rate from 110 to 921,600 baud
PCI Express
128 Byte Transmit and Receive FIFOs
Drivers for all popular operating systems including Windows 10, 8, 7 and XP
Lifetime Warranty and Support
Description
Carte PCI Express offrant un port série RS232 autoalimenté. Débit de transfert de données jusqu'à 921.600 bauds, modules FIFO de 256 octets pour la transmission et 256 octets pour la réception, associés à des pilotes avec lignes à 1 Mbit/s, assurant une performance sans faille à votre PC. Une puissance sélectionnable jusqu'à 1 Amp est offerte par les broches 1 et 9 du périphérique connecté. L'énergie supplémentaire nécessaire est directement fournie à la carte PCI Express par l'alimentation du PC grâce à un connecteur d'alimentation ATA Parallèle (PATA – ou IDE) : une solution élégante, propre et verte. Les pilotes pour les systèmes d'exploitation Windows 32 bit et 64 bit incluent Windows 2000, XP, Server 2003, Vista, Server 2008 et Windows 7.
Customer Feedback
Great products. Excellent quality.

ENZ Engineering, Berlin
Great products and brilliant to see still manufactured in UK

AI Automation
Fantastic job keep up the good work!

Vibra-Technics
I've purchased a number of these now and haven't had a problem with any of them.

Somfy Projects
Brainboxes are great products. Very stable & reliable.

Winner Hotel Software
Efficient and fast

Grid Edge Ltd
Like the products. easy to use.

Gauss Instruments International GmbH
‹
›
Spec Tech
Serial Port
Ports
1
Protocol
RS232
Connector
DB9 Connector - 9 Pin Male
UART
Oxford 950
UART Compatibility
16750/16550/16450 backwards compatibile
Tx FIFO Size
128
Rx FIFO Size
128
Operating Distance
EIA - RS232 Standard
Cable
No Cable; Integrated Connector
Serial Port Settings
Max Baud Rate
921,600
Data Bits
5,6,7 or 8
Parity
Odd, Even, None, Mark or Space
Stop Bits
1, 1.5 or 2
Flow Control
RTS/CTS, DSR/DTR, XON/XOFF
Tx/Rx Modes
Point to Point
General
PCB Layers
4
Form Factor
Standard Height
Includes Printer Port
No
Galvanic Isolation
No
Power Consumption
400mA @ 3.3V
Product Weight
awaiting
Product Dimensions
awaiting
Packaged Weight
0.140 kg, 4.94 ounces
Packaged Dimensions
150x145x44 mm, 5.9x5.7x1.7 inches
GTIN (barcode)
837324002775
Operating System Compatibility
Operating Systems

Microsoft Windows 10
Microsoft Windows 8 32 bit & 64 bit Editions
Microsoft Windows 7 32 bit & 64 bit Editions
Windows Server 2008 32 bit & 64 bit Editions
Windows Vista 32 bit & 64 bit Editions
Windows XP 32 bit & 64 bit Editions
Microsoft Windows 2000

Interface
PCI Express x1, x4, x8 & x16 lane slots
PCI Express (Peripheral Component Interconnect Express), officially abbreviated as PCI-E or PCIe, is a computer expansion card standard introduced by Intel in 2004. All Brainboxes PX cards are PCI Express Base Specification 1.1 Compliant.
Modal header