Carte Série PCI Express 1 Port RS232 avec Port Imprimante Parallèle LPT
PX-475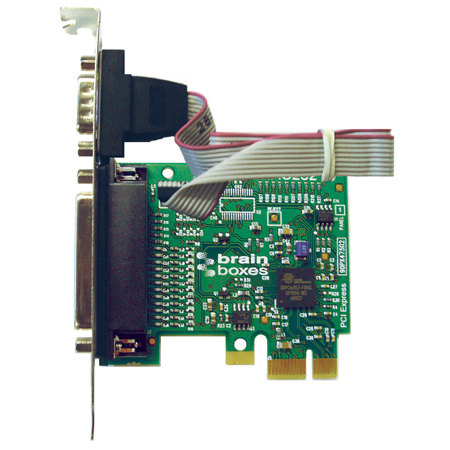 One RS232 serial port and one LPT printer port
up to 921,600 baud rates
Popular Operating Systems supported
Description
Carte PCI Express offrant un port série RS232 et un port imprimante LPT. Débit de transfert de données jusqu'à 921.600 bauds, modules FIFO de 256 octets pour la transmission et 256 octets pour la réception, associés à des pilotes avec lignes à 1 Mbit/s, assurant une performance sans faille à votre PC. Les pilotes pour les systèmes d'exploitation Windows 32 bit et 64 bit incluent Windows 2000, XP, Server 2003, Vista, Server 2008 et Windows 7.
Customer Feedback
…I would recommend a BrainBoxes PCI Express card or PCMCIA card. Brainboxes seems to be a forward-thinking company that has very strong driver support across its entire range, including some products more than 10 years old.

Tim Long
Great products. Excellent quality.

ENZ Engineering, Berlin
Great products and brilliant to see still manufactured in UK

AI Automation
Fantastic job keep up the good work!

Vibra-Technics
I've purchased a number of these now and haven't had a problem with any of them.

Somfy Projects
Brainboxes are great products. Very stable & reliable.

Winner Hotel Software
Efficient and fast

Grid Edge Ltd
‹
›
Spec Tech
Serial Port
Ports
1
Protocol
RS232
Connector
DB9 Connector - 9 Pin Male
UART
Oxford 950
UART Compatibility
16750/16550/16450 backwards compatibile
Tx FIFO Size
128
Rx FIFO Size
128
Operating Distance
EIA - RS232 Standard
Cable
No Cable; Integrated Connector
Serial Port Settings
Max Baud Rate
921,600
Data Bits
5,6,7 or 8
Parity
Odd, Even, None, Mark or Space
Stop Bits
1, 1.5 or 2
Flow Control
RTS/CTS, DSR/DTR, XON/XOFF
Tx/Rx Modes
Point to Point
Printer Port
Printer Port
1
Printer Port Protocol
LPT
Printer Port Connector
25 Pin Female D Connector on Fly Lead
General
PCB Layers
4
Form Factor
Standard Height
Includes Printer Port
Yes
Galvanic Isolation
No
Power Consumption
380mA @ 3.3V, 15mA @ 12V
Product Weight
0.058 kg, 2.05 ounces
Product Dimensions
120x83x18 mm, 4.7x3.3x0.7 inches
Packaged Weight
0.151 kg, 5.33 ounces
Packaged Dimensions
160x135x49 mm, 6.3x5.3x1.9 inches
GTIN (barcode)
837324002218
Operating System Compatibility
Operating Systems

Microsoft Windows 10
Microsoft Windows 8 32 bit & 64 bit Editions
Microsoft Windows 7 32 bit & 64 bit Editions
Windows Server 2008 32 bit & 64 bit Editions
Windows Vista 32 bit & 64 bit Editions
Windows XP 32 bit & 64 bit Editions
Microsoft Windows 2000

Interface
PCI Express x1, x4, x8 & x16 lane slots
PCI Express (Peripheral Component Interconnect Express), officially abbreviated as PCI-E or PCIe, is a computer expansion card standard introduced by Intel in 2004. All Brainboxes PX cards are PCI Express Base Specification 1.1 Compliant.
Modal header