PCIe 4+1xRS232 + 1xLPT Printer Port -

N'est plus produit
PX-306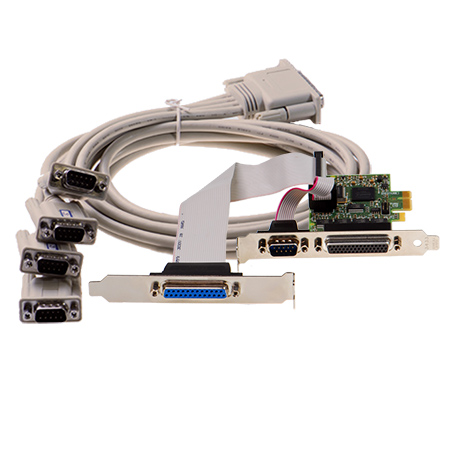 5 Port RS232 and 1 Port LPT
Data transfer rates up to 921,600
128 byte TX and RX FIFO
Drivers only for Linux
N'est plus produit- Recommended Alternative Products
PX-306
PX-272
PX-263
PX-475
PX-701
PCIe 4+1xRS232 + 1xLPT Printer Port
LP PCIe 4+1xRS232 + 1xLPT Printer Port
4xRS232 PCIe Serial Port Card with LPT Parallel Port for Printer Low profile
Carte Série PCI Express 1 Port RS232 avec Port Imprimante Parallèle LPT
Carte Série PCI Express 4 Ports RS232

Ports

5 x RS232 + 1 x LPT Printer

Protocol

RS232 + LPT Printer

Form Factor

Standard Height

Ports

5 x RS232 + 1 x LPT Printer

Protocol

RS232 + LPT Printer

Ports

4 x RS232 + 1 x LPT Printer

Protocol

RS232 + LPT Printer

Form Factor

Standard Height

Form Factor

Standard Height

Form Factor

Standard Height

£ 295.00 (gbp)
£ 295.00 (gbp)
£ 265.00 (gbp)
£ 140.00 (gbp)
£ 265.00 (gbp)
Détails
Détails
Détails
Détails
Description
PCI Express Card providing five RS232 serial ports and one LPT port (5 industry standard 9 pin D RS232 ports via a quad cable and 1 x 9 Pin D on a fly lead plus a 25 pin D LPT port on a flylead). Brainboxes' own BB16C958 UART provides data transfer rates up to 921,600 baud rates and the 128 byte deep transmit and 128 byte receive FIFOS, coupled with 1Mbit/s line drivers deliver uncompromising performance on your PC. Drivers for Linux.
Spec Tech
Serial Port
Ports
5 x RS232 + 1 x LPT Printer
Protocol
RS232 + LPT Printer
Connector
DB9 Connector (9 Pin Male) and LPT port (25 Pin Female)
UART
Oxford 950
UART Compatibility
16750/16550/16450 backwards compatibile
Tx FIFO Size
128
Rx FIFO Size
128
Operating Distance
EIA - RS232 Standard
Cable
4 port cable (44 way D to 4x9 Pin Male D) + 1 port 9 Pin Male D on Fly lead
Serial Port Settings
Max Baud Rate
921,600
Data Bits
5,6,7 or 8
Parity
Odd, Even, None
Stop Bits
1, 1.5 or 2
Flow Control
RTS/CTS, DSR/DTR, XON/XOFF
Tx/Rx Modes
Point to Point
Printer Port
Printer Port
1
Printer Port Protocol
LPT IEEE-1284 with SPP/PS2/EPP/ECP support
Printer Port Connector
25 Pin Female D Connector on Fly Lead
General
PCB Layers
4
Form Factor
Standard Height
Includes Printer Port
Yes
Galvanic Isolation
No
Power Consumption
awaiting
Product Weight
0.653 kg, 23.03 ounces
Product Dimensions
240x170x60 mm, 9.4x6.7x2.4 inches
Packaged Weight
1.234 kg, 43.53 ounces
Packaged Dimensions
200x135x80 mm, 7.9x5.3x3.1 inches
GTIN (barcode)
837324002942
Operating System Compatibility
Operating Systems
Interface
PCI Express x1, x4, x8 & x16 lane slots
PCI Express (Peripheral Component Interconnect Express), officially abbreviated as PCI-E or PCIe, is a computer expansion card standard introduced by Intel in 2004. All Brainboxes PX cards are PCI Express Base Specification 1.1 Compliant.
Modal header