Intashield 1 LPT Printer Port PCI Card -

N'est plus produit
IS-500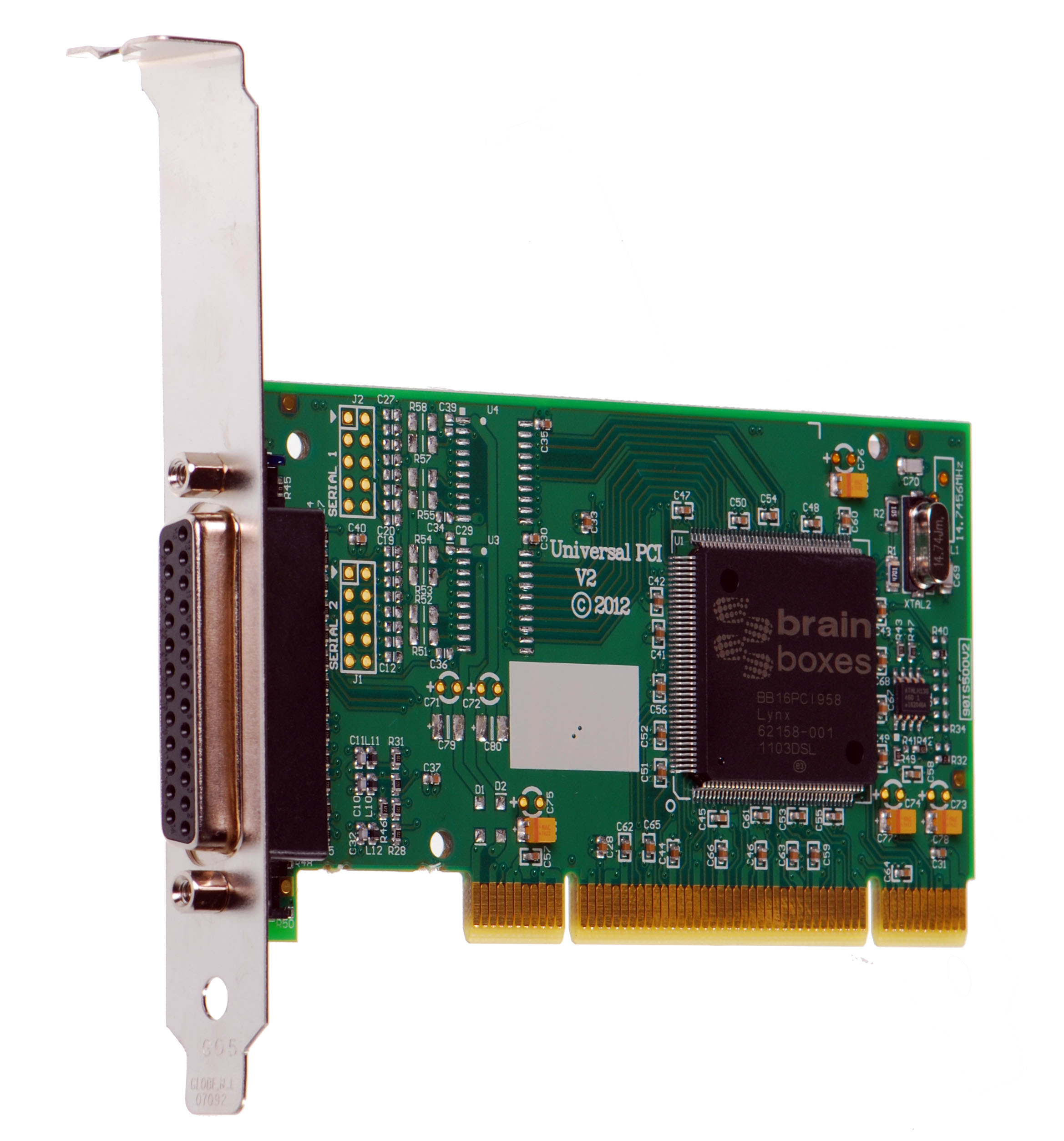 1 LPT Printer Port
PCI plug and play
Drivers for Win 7, Vista & XP
1 year warranty
N'est plus produit- Recommended Alternative Products
IS-500
IS-550
UC-246
Intashield 1 LPT Printer Port PCI Card
Intashield 1 LPT Printer Port Low profile PCI Card
Carte Série PCI 1 Port RS232

Form Factor

Standard Height

Form Factor

Standard Height

£ 28.75 (gbp)
£ 28.75 (gbp)
£ 60.00 (gbp)
Détails
Détails
Description
This card provides 1 industry standard 25 pin LPT parallel printer port in a single PCI slot. As PCI is fully Plug and Play compatible your BIOS and operating system will automatically configure the card ensuring conflict free installation.
Intashield offers a good serial connection at a great price. Many applications just need a simple, reliable serial connection, no high baud rate or powered cards, no opto-isolation, no custom options or alternative connectors, simply fit and forget RS232 serial.
Customer Feedback
The product is good and easy to configure. I used it to control an Emergency Siren in a remote location.

Everything I need is on the websites. Very informative and user-friendly website.

San Roque Power Corporation
We've been using brainboxes for about 4 years, they work good, no problems!

Tecnozoo Impianti S.R.L.
Smashing product, best quality for the price. Most of the time we use in distribution boards/cabinets.

Intechservice LTD
We are already using your products and find them absolutely perfect according to our environment and requirement. The Switch will be deployed on a Gas Processing Facility.

CFL Technologies Inc
‹
›
Spec Tech
Serial Port
Ports
1
Protocol
LPT Printer
Connector
25 Pin Parallel Port Female Connector
UART
550
UART Compatibility
16550/16450
Tx FIFO Size
16
Rx FIFO Size
16
Operating Distance
EIA - RS232 Standard
Cable
Serial Port Settings
Max Baud Rate
115,200
Data Bits
5,6,7 or 8
Parity
Odd, Even, None, Mark or Space
Stop Bits
1, 1.5 or 2
Tx/Rx Modes
Point to Point
General
PCB Layers
4
Form Factor
Standard Height
Includes Printer Port
No
Galvanic Isolation
No
Power Consumption
n/a
Product Weight
0.068 kg, 2.40 ounces
Product Dimensions
134x120x18 mm, 5.3x4.7x0.7 inches
Packaged Weight
0.149 kg, 5.26 ounces
Packaged Dimensions
160x135x49 mm, 6.3x5.3x1.9 inches
GTIN (barcode)
837324002492
Operating System Compatibility
Operating Systems

Microsoft Windows 7 32 bit & 64 bit Editions
Windows Server 2008 32 bit & 64 bit Editions
Windows Vista 32 bit & 64 bit Editions
Windows XP 32 bit & 64 bit Editions
Microsoft Windows 2000

Interface
PCI 2.3
Conventional PCI
Modal header